For decades insurance market has been slower in the adoption of new business solutions (not just digital once) than banks, telco and FMCG – which gave insurers the nickname of a "conservative industry" especially in view of the increasing trend of digitization and innovation in other markets. This might be explained by a few root causes, making lower demands for the pace of insurance market innovation. Contrary to the other industries – an average customer does not want – he has to buy insurance he does not really understand. Moreover, he buys insurance not very often – once in a few years (not counting renewals), and he uses the product (makes a claim) as much rarely. On the other hand, the insurance product does not have many physical properties, which makes him perfect for complete digitalization.
There are many articles about classifying digital innovations themselves (e.g. see an excellent article in our MITEF blog), however, this time let's have a look more from the perspective of insurer challenges. The article focuses on the Polish insurance market. However, one can find foreign markets that are more and others that are less mature in digitalization and innovation.
Digitalization enables huge change
Yet 10 years ago in Poland policies were still issued on paper without the use of an insurer IT system, paid in cash, and the agent was the real owner of customer data. Nowadays policies are issued from the central systems, however, an online customer account is not there yet at many top insurers for mass products, not to mention online sales. 10 years ago, claim files existed only on paper, and they had to be physically transferred between branches and headquarters for approvals. The standard today is that claim files are processed centrally in a digital form. However, the dream is to allow omnichannel (agent-phone-chat-online-mobile) sales, one-stop self-service and internal processes be digitalized and run automatically for standard cases – powered by IoT, big data analysis, AI and blockchain. This shows the huge gap traditional insurers must overcome.
IT & business architecture roadmap
To make use of innovative solutions, companies need first to adjust IT & business process architectures. It does not make much sense to implement CRM for decentralized core systems and processing based on paper. If operations are based on manual or batch processing, then it might be difficult to provide a one-stop self-service for a customer. If companies want to use IoT and telemetry to transform business models they need to rethink how to develop data management, system integrations and invent what should be a model of the insurance product to benefit from these data.
Organizational enablers
To benefit from technical enablers insurers will have to adjust organizations themselves. If the processes were based yet recently on paper documents and human labor, and in the future data and AI will drive processes, and the insurance product will have to take into account the digital user experience – insurers will need employees with completely new skills. Setting the right insurance price is a key insurer capability. In the past, an insurance price was changed once a year and was based on a very limited scope and precision of data, driven by a narrow group of insurance specialists. In the future, it will be a very dynamic process, based on data coming from many sources (IoT/telemetry), involving also UBI, with a possibility to benchmark prices with the market. It will require not only new employee skills but also understanding how the organizational capabilities of insurers will need to change. And with insurance comparison websites it will be even more pressure for setting the right insurance price.
Innovations on the strategic agenda
Innovations cannot be efficiently done by just order to an employee. This requires their awareness and motivation to innovate and transform the company. However, the traditional insurance business at the start of the digitalization trend had very little of such employees. With a growing number of these employees, the company's capability to implement complex innovative solutions will grow and will also impact corporate culture, which is a driver of change. Companies evolve from testing simple solutions, via making specific solutions to address benefits in a specific business area, to put the innovation and digitalization as a key element of a strategic company-wide agenda and transformation programs.
Warta is an excellent example. With its first mobile app introduced in 2010 the only thing you could do was to initiate a call to call center – probably the app was developed just by a few enthusiasts. Not a big benefit to the customer nor to the insurer. Now the mobile app is a customer center of claim handling of car insurance and is integrated with the core system and aligned with internal processes. However, Warta mobile app does not yet allow any policy sales and service and is not a view to the customer's online policy account. Warta does not have any online customer account for the insurance, which is not yet a standard at the Polish market, although Hestia introduced a regular online account for its customers already in 2008.
Priorities from the perspective of benefits
There are a few areas insurer can look for benefits coming from innovations. The first area is improving the customer experience. It takes time for customers to learn how to benefit from digital solutions and in the digitally unmatured market it might have a little impact on the market competitiveness. Moreover, to improve customer digital experience (self- & one-stop service, omnichannel) it requires traditional insurers first to make changes to IT and internal processes to make them run automatically in real-time and all digital. This means huge investments, which is a blocker if we think of improving only customer experience, which addresses rather long term benefits for an insurer. Do not read it as "do not do it", but put the right priority and combine also with other benefits to achieve. The second area is the new income. These are new insurance products enabled by digital solutions – e.g. short-term insurance for specific items captured on photo, UBI, based on telemetry or IoT or use blockchain for immediate claims handling (see AXA flight delay insurance). This might be not so quick benefits, many know what it means to introduce a new product, but if successful it means an additional stream of new money for an insurer. The third area is to reduce operational costs.  Warta example of inspection at the moment of customer notifying about the claim, which is enabled by video streaming to remote adjuster from customer mobile app, at one hand reduces the workload of inspections, and at the other, improves customer experience – not for all service, but just for claims handling. At the same time, it allows addressing the fourth area which is addressing leakage & fraud. In this case inspection after a few days would make more space to act for fraudulent customers. On the contrary automation and one-stop handling claims makes a need to digitalize and automate also leakage & fraud detection.
Conclusions for startups
Once you understand more how insurers become mature in adopting digitalization and innovations, as a startup you should have better knowledge which insurers to contact first and what to propose to maximize the chance for successful projects.
First, try to understand what processes or areas are addressed by your solution/innovation. Does it address a single process/product or all the company? Understand the status of specific insurance markets and specific companies in terms of digital adoption, if they are ready for your innovations. Reach to proper insurer employees that will be motivated & eager to move things forward. Understand how your solution, or changes enabled by your innovations, might change insurer competitiveness – communicate it. Anyhow, insurers might be yet reluctant to implement your solutions. Enable features and arrange pilots so that insurers can measure and benchmark the benefits of new against the as-is model. Having tangible evidence, they should be willing for wider adoption. In all of this do not forget to protect your intellectual property and reach a win-win approach. Do not give up, use your failures as the best source for learning. The best if you could learn as a team with an insurer. Find pleasure in discovering and perfecting. Good luck!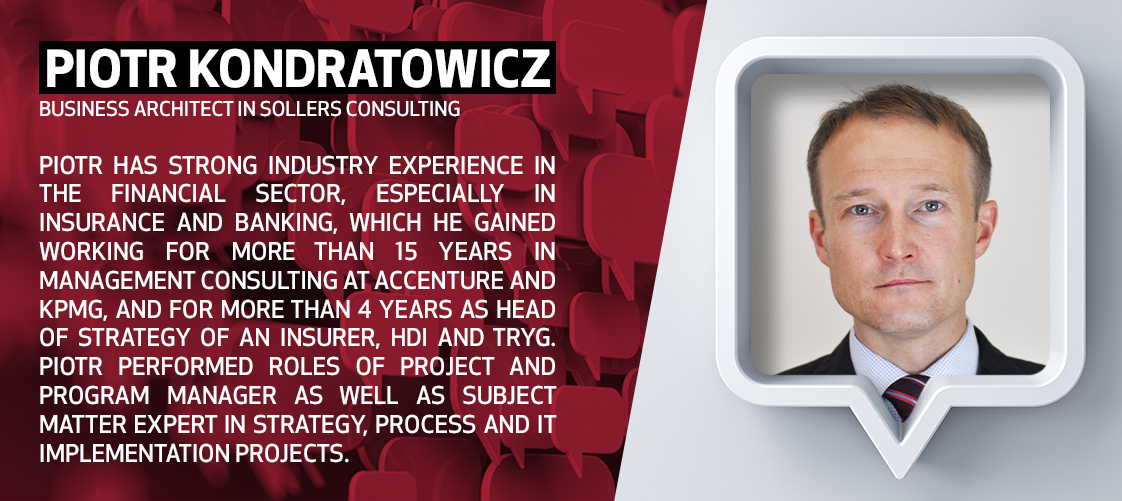 Want to know more about challenges in digital world? Check out our article about 7 Challenges Stopping Innovation in Your Organisation.