Romeo Grzębowski, Extended Tools
Is there a perfect personality profile for a Technology Startup Founder?
What determines the success of a technology startup?
Hundreds of thousands of books, programs, trainings, workshops, blogs and podcasts have been created about how to achieve success in business, or even how to successfully develop a startup. This is undoubtedly a complex issue and many factors influence the final result. For simplicity, let's suppose the key elements form the following equation:
Startup Success
=
An innovative idea for a product / service that meets the real needs of users.
+
A well-thought-out and well-designed / scalable technology enabling the implementation of the idea.
+
A team of talented, motivated people with appropriate competences and experiences responsible for the development, sale and implementation of this technology.
+
Ecosystem: Legal and business conditions, access to capital, Investors, Accelerators, Advisors, Mentors, etc.
Hypothesis
The team of experts from the firm Extended Tools Polska, a substantive Partner of MIT EF CEE, during the three-year cooperation, had the opportunity to meet many innovative executives and founders, during both group workshops and individual consultations and with the use of Extended DISC assessment tools.
We decided to analyze the collected information and see if an "Ideal Founder's behavioral profile" could be considered. In other words, is it possible to identify a set of personality traits, natural behaviours, predispositions or other talents that could increase the probability of success for a Startup led by such a respective Founder?
In our study, we focused on the management teams of Startups – all participants of the MIT Enterprise Forum CEE Acceleration program. The study involved 264 people from carefully selected startups who met the strict criteria for participation in the program.
We selected 53 innovative executives and founders from this group, with representatives from the boards of over 20 Startups – all finalists of the recent five editions of the accelerator, running between 2019-2021. The finalists all represented startups that received very high marks from the jury during Demo Days, composed of top experts and representatives of VC funds, and also won votes from the audience. Most of the represented startups also achieved spectacular business successes, as reported by the media. Among the finalists there were: Challenge Rocket, Symmetrical, Chatbotize / ZOWIE, Hashiona and many others …
What type of innovator are you? The theory of human potential and a brief description of research tools
In our study, we used an assessment questionnaire based on the Extended DISC model, which allows you to learn in detail about the respondent's natural style of behavior, communication and their way of making decisions, as well as indicate their most comfortable and most frequently presented behaviors and innovative personality traits.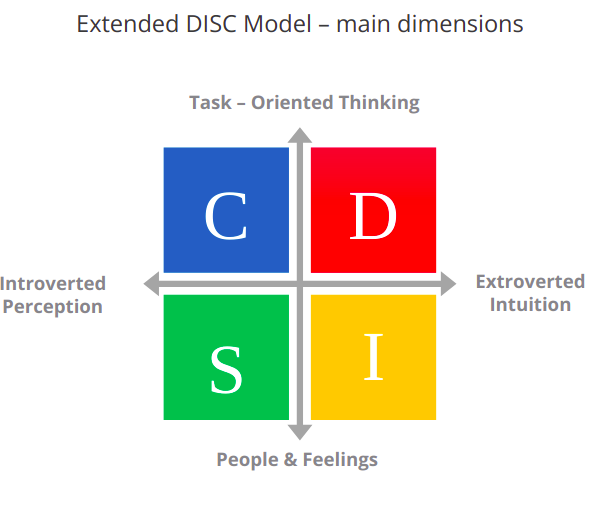 In short, the Extended DISC Model identifies the intensity of four main styles of behavior in the examined person: D (Dominance), I (Influence), S (Submission) and C (Compliance). It also measures the relationship between each of them and allows for results to be interpreted in the context of selected tasks and professional activities.
About the Model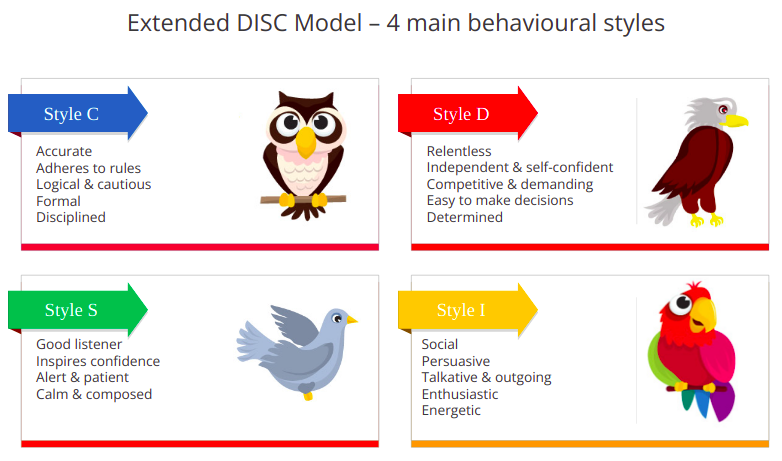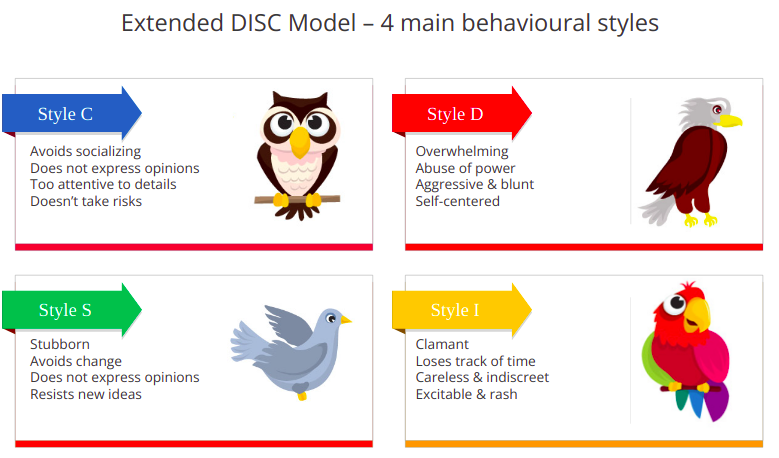 Style D
Style I
Style S
It is worth emphasizing that none of these four major styles of behavior is better or worse in itself. They will only indicate which behaviors will be more comfortable and, as a result, presented more often by the given persons, and which on the contrary will not. As humans, we have great adaptability and we can also behave in a way that is uncomfortable for us, but in a situation of professional pressure or everyday stress, our most natural behavior will always be our first, spontaneous choice.
Diagnostic tools based on the Extended DISC model do not measure the intelligence or knowledge of participants, which may also affect their functioning in an organization.
To broaden your perspective, read the article: The Five Personalities of Innovators: Which One Are You? by Brenny Sniderman in which the 5 types of innovators are described. The above-mentioned types formed an interesting background for our research, so we allowed ourselves to compare them with the behavioral styles according to Extended DISC, corresponding to them as best our opinions saw fit.
Movers and Shakers (D)
Experimenters (D+C+I)
Star Pupils (I+D)
Controllers (C )
Hangers On (S)
Our research results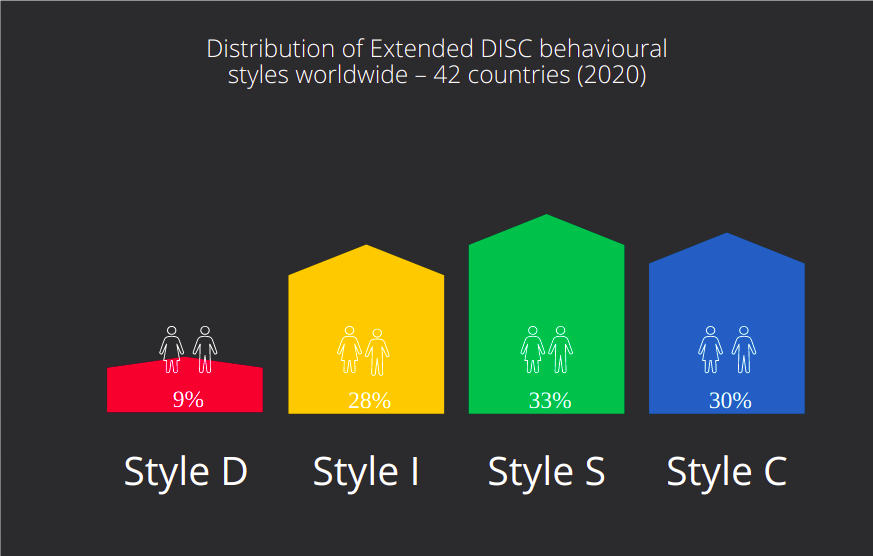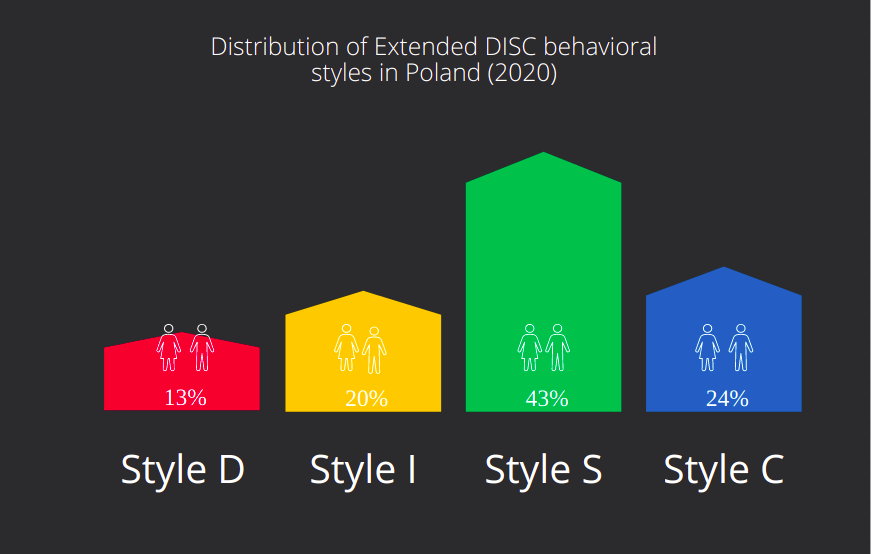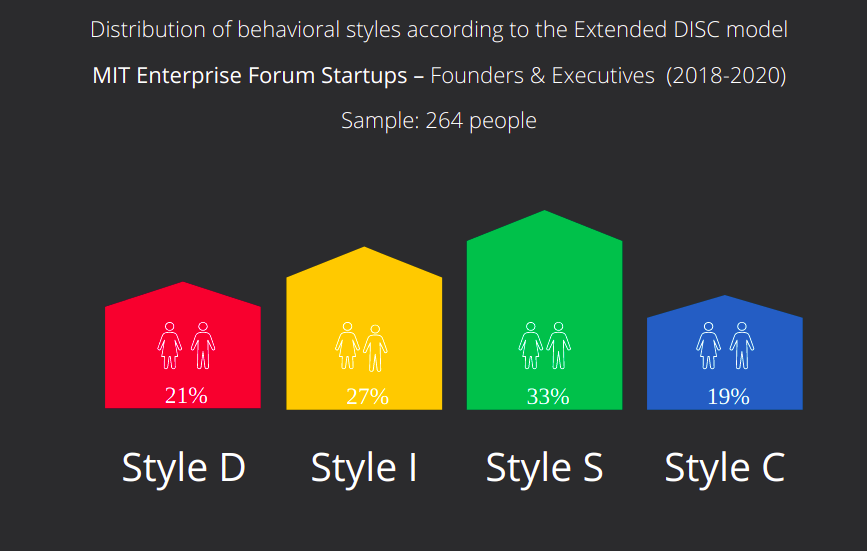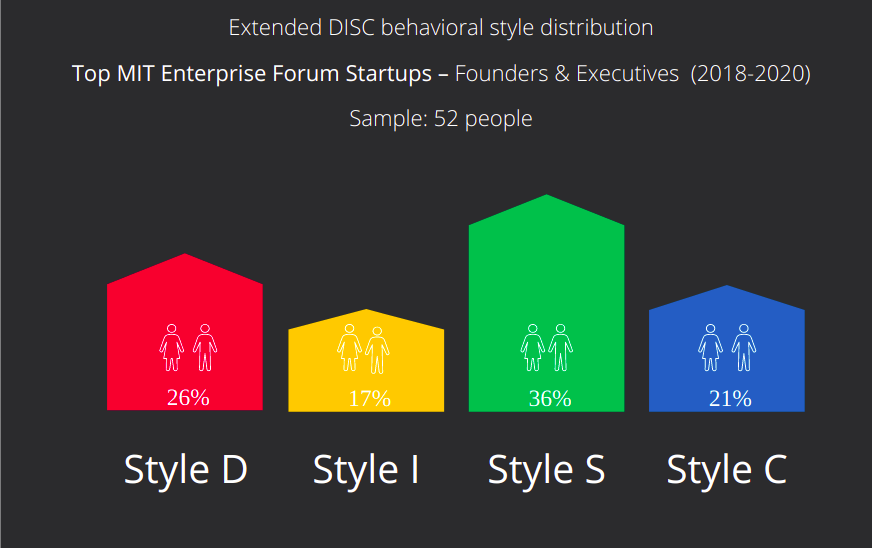 In Poland, we have a relatively large pool of D-style people compared to the global average, which is a good prognosis for the development of innovative entrepreneurship.
The deficit of a resource in our population compared to the global average are people of style I, who are particularly good at activities such as networking, building new relationships, and selling ideas and concepts.
Among the Founders and managers of the best startups, there are people with different dominant behavioral styles (D, I, S, C).
In the best MIT EF CEE startups, the Founders' group includes 2 times more people with a predominance D style than the average in the Polish population and 3 times more than the average in the global population.
Conclusions
So is there such a thing as "Innovator personality" – the ideal personality profile for a Technology Startup Founder?
The answer is not obvious. Probably if it were, unicorns would spring up like mushrooms after the rain. However, there are some valuable tips for entrepreneurs building startup teams and investors who want to increase the chances of the success of their investments:
Every person, regardless of their behavioral profile, can be successful in innovative startup projects, as success is greatly influenced by other factors, such as passion, determination, intelligence, knowledge, competences and experience – and these can be acquired and improved with the help of accelerators, such as the MIT Enterprise Forum
We can increase our chances of success by making sure the startup's management team is behaviorally diverse.
At the initial stage of startup development, the presence of people with a predominant D style (Movers and Shakers) among the Founders, who will bring strength and determination to achieve goals and show courage in making risky decisions, is particularly beneficial.
Founders with the DCI (Experimenters) profile will allow you to choose the optimal direction of development and decide on a pivot if they indicate the need for preliminary experiments.
People with D and DCI styles, without the support of S and C styles (Hangers on and Controllers) will find it difficult to translate their vision into viable products.
People with a predominant I / ID (Star Pupils) style can do a lot of good in the team, however their positive impact increases when you start selling and scaling your business. In the early stages of development, they may have a tendency to generate too many parallel initiatives rather than focusing on the effective implementation of the selected idea.
Too much concentration of people with a predominant D style in one team can generate conflicts that are difficult to manage, often motivated by ego and competition rather than substantive disputes.
Diverse teams are more difficult to manage due to different communication styles or decision-making, but in innovative projects they work much better than homogeneous teams in terms of personality and behavior types.
Summary
The personality of the founder is important, but it is not the only success factor.
As a consultant, I had the opportunity to get to know the backstage of one of the largest startup / R&D transactions in Poland in 2020 and I found out how much depends on effective cooperation in the management team.
Of course, the main premise for the transaction was a unique innovative technology with the potential for billions of dollars in revenue in the future. However, few people realize that several months before the transaction, a significant crisis in the management team was resolved, which then had a very negative impact on the progress of research and the implementation of milestones in technology development.
Several changes were made to the team and then, for many months, a new platform of understanding and trust was built, and a new strategy was agreed, which led to a happy end, i.e. this breakthrough transaction. This success could not have been achieved without understanding the dynamics of the relationships within the team and the individual behavioral styles of individual people, as well as initiating actions to help resolve the conflict and rebuild the team.
Author: Romeo Grzębowski
Expert and Mentor at MIT Enterprise Forum CEE. Over 20 years of experience in running consulting projects in the area of people management and the development of leaders and teams. Co-founder of Time for Team and Extended Tools Polska. He also gained experience, among others, as: HR Manager – Xerox Polska, consultant – Nicholson International, and apprentice – Harley-Davidson Motor Company.
He completed the Advanced Management Program at IESE Business School, University of Navarra.
He is a graduate of the University of Adam Mickiewicz in Poznań, majoring in Management and Marketing and the University of Management and Banking in Poznań. He also completed postgraduate studies in Human Resources Management and the "Intern Program in Organization and Human Resources Development" organized by University Associates in the United States.
Certified ICC Coach, Certified Extended DISC® and MTA Learning consultant